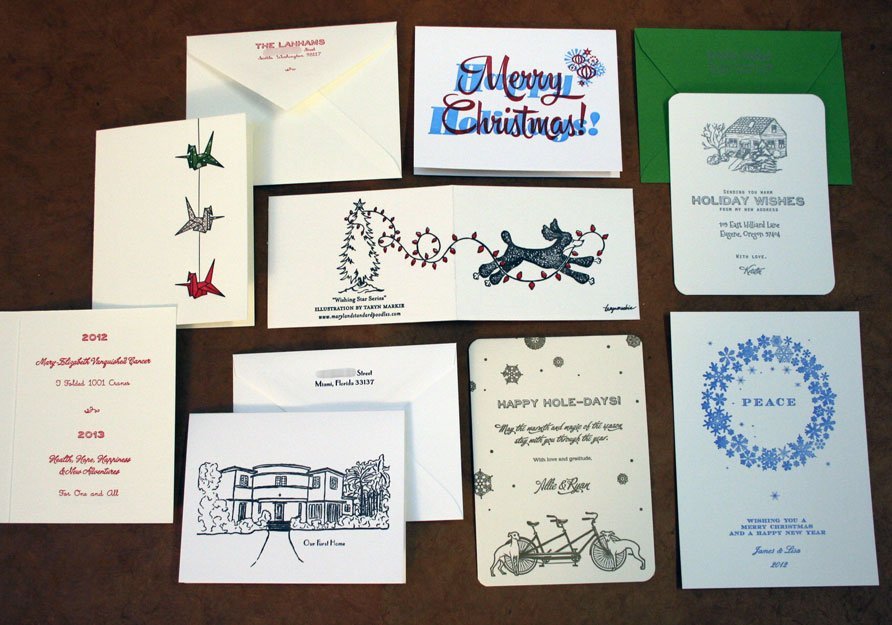 Before we get too far into 2013, I wanted to take a moment to show off the awesome custom holiday cards we created for our clients for this past holiday season.  It always brings a smile to my face when a client from the past that we made wedding invitations or birth announcements, or business cards for, comes back during the holidays to order a special holiday or New Year's card.  I also love getting holiday and New Year's card orders from new clients!  Everyone can use a little letterpress in their life, whether they're getting married or not!  Above is a small collection of my favorite custom holiday cards that we printed in 2012!
Allie and Ryan Hole were married in 2011 in California and they hired us to print their Save-the-Date cards, which you can see here.  For their holiday cards this year, they decided to re-use the tandem bike and whippets from their Save-the-dates, and had me "holiday-it-up" a little bit.  In order to do this, I paired the original drawing with a snowflake theme and some festive fonts to create the A6 flat holiday card you see below.  These were printed in gold ink on Crane Lettra Ecru Paper.
Another sweet, doggie-themed holiday card we created this past season was for Julia Swartz of Maryland Standard Poodles.  Julia published a children's book entitled "Wishing Star: a Poodle's Tale" about a year ago, and hired us to print some letterpress greeting cards to commemorate the publication.  Julia still carries those cards as well as these new ones, and the book, in her online shop.  Go check them out!  Everything you will see there is really adorable!
These blue, A7-size flat holiday cards for Lisa Brooks and her husband, James, were very sweet and classic!  We printed these in a single ink color on 100% cotton paper and paired them with matching blue envelopes.
Along the same lines as Lisa's cards were these awesome folded holiday greetings for Portland, Oregon couple York and Julie!  I love the retro typefaces and the awesome use of overprinting.  York designed these holiday cards himself, and I just love how well he took advantage of the letterpress process' strengths.
One particularly touching set of cards I printed this December was for a Seattle family whose daughter had vanquished cancer in 2012.  Sally Lanham hired us to customize our Crane String Cards with a personal message on the inside.  I think this was a lovely way to celebrate her daughter's triumph over cancer, and to wish their friends and family a healthy, Happy New Year.
Another couple that I've been working with for several years now, hired us to do holiday cards this year that both celebrated the season, and announced their move into their first ("Furst" is their last name) home!  Miami couple, Rachel and Joseph Furst are awesome and I just loved printing these cards for them!  We also printed their wedding invitations back in 2009, and their holiday cards in 2010.  The drawing of their new house for this year's card was done by the couple's architect!  I think it turned out so awesome!
I also bought my first house in 2012 and was inspired by Rachel & Joseph to use that achievement as the theme for my own holiday cards this year.  I was a little late sending mine out (as always – when you work on other folks' stationery all day, you're not terribly motivated to do your own), but you can check them out below!  The small house drawing was done (really fast) by moi.
Thanks so much everyone who ordered holiday cards this past year!  It's always a pleasure working with all of you!  I'm looking forward to more exciting letterpress adventures in 2013!
https://twinravenspress.com/wp-content/uploads/2015/04/Holiday6.jpg
625
892
Kristin
https://twinravenspress.com/wp-content/uploads/2015/05/NewRavensLogoForMatt.png
Kristin
2013-01-08 18:06:05
2015-04-03 21:24:19
2012 Holiday Card Round-Up!