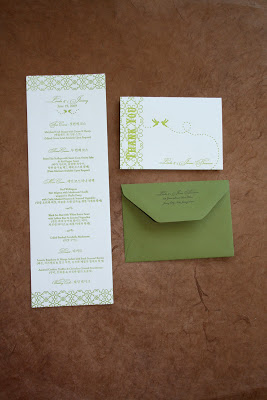 Back in March I created a really beautiful green and chocolate brown wedding suite for a couple in New York City who were getting married in June named Linda & James.  If you've been following this blog for a while, you may remember seeing their invitations quite a while ago.  If you're new to the blog, or don't remember this particular couple, you can check out their wedding invitations here.  Linda and I had such a great time working together and she loved the way her invites turned out so much that she ended up hiring me to design and print her wedding menus and thank you cards at a later date.  Linda & James' thank you cards and menus turned out so great that even though it's past their wedding at this point, I needed to show them to you anyway!  
Because Linda's family is Korean and her husband James' family is American, they decided it would be best to do a bilingual menu for their wedding.  I've done a handful of bilingual invitations and other stationery pieces before, but before this one, hadn't ever done one in an Asian language.  It was exciting!  You can see the three pieces (menu, thank you card and thank you card envelope) together at the top of this post.  Here is an image of just the menu by itself (click on the image if you want to see it bigger): 
Linda's menu was a custom size.  It's long and skinny measuring 3.75″x11″.  We used the same scroll pattern from Linda's invitation and reply card at the top and bottom of the menu and carried the same fonts over from the original suite.  Now, I must confess that I can't read, write, or speak Korean, even in the smallest amount, but Linda was great with sending over not only all of the text typed out, but telling me where it needed to be broken up and what characters went with what segments of the english text.  Even if you can't actually read it like me, check it out, the letterpress printed Korean is beautiful!  
I love it!  If you're a prospective client and would like to do any or all of your stationery in multiple languages, have no fear!  I love this sort of challenge!  As long as you're willing to correct my faulty grammar, spelling and/or (as Linda did) write out the exact wording as you want it to appear in your second language, I'd be more than happy to letterpress print it for you.  
Linda also ordered a set of matching thank you notes and envelopes to use after her wedding at the same time that she ordered her gorgeous menus.  
The thank you notes were a 4bar size, folded, printed in one ink color on Crane Lettra Pearl White Paper and came with a corresponding green 4bar envelope from Green Paper Company.  We used the same bird and scroll motifs from the rest of the stationery for these cards as well as the same fonts we had been using all along.  Aren't they cute?  
Congratulations and thanks again, Linda & James!
https://twinravenspress.com/wp-content/uploads/2015/05/NewRavensLogoForMatt.png
0
0
Kristin
https://twinravenspress.com/wp-content/uploads/2015/05/NewRavensLogoForMatt.png
Kristin
2009-08-18 16:24:00
2015-04-03 02:04:39
Beautiful Bilingual Korean & English Wedding Menus & Thank You Cards