Happy Buddy Monday, everybody!  I've been really excited to start this weekly feature now for over a year (yeah, it's been planned for that long…).  If you read my post from yesterday, you already know a bit about what this series is going to be.  You'll also know that I stole the idea for the blog series from my friend Sarah, as she did something similar on her blog three years ago.  At any rate, I thought it was only appropriate (since she gave me the idea) to have Sarah & Adam as my first Buddy Monday!
I met Sarah & Adam when Adam started working at a videogame company that my boyfriend was working at several years ago.  Adam had moved to Eugene for the job, while  Sarah had stayed behind on the East Coast.  It wasn't very long before Sarah moved out to Eugene to join Adam.  A couple of years ago they were married in an awesome wedding on Bailey Island, Maine near where Sarah had grown up in Bath, Maine.  I was super-lucky to be able to attend their wedding, and was overjoyed to collaborate with Sarah on creating their wedding stationery!
Sarah and Adam's stationery suite featured a custom folder that contained their invitation and directions/information card, a postcard rsvp card and an awesome yellow & cyan invitation envelope!
Sarah is an awesome designer herself and she designed all of the patterns that you will see throughout their invitation suite and that were incorporated into other details of their wedding!  Above is the invitation folded up with the invite envelope.  The invite envelope was an awesome curry yellow color from Waste Not Paper Company.  Sarah designed the cyan envelope liners and we die-cut and glued them in each envelope ourselves.  Each folder was created by hand by blind embossing one of Sarah's patterns across the length of the folder.  It was scored in three places and sealed shut with a handmade, embossed sticker.
Upon opening the folder, here's what you would see:
One panel of the folder contained the actual wedding invitation, and the other was reserved for an additional information card with directions, registry and website information.
Sarah and Adam's invitations were printed in four ink colors: Cyan, Magenta, Yellow and Black (CMYK…hee, hee), on Crane Lettra 110 lb. Bright White Paper.  I love all of the different colors and textures Sarah was able to create for these, and their use of modern, unconventional fonts was totally awesome!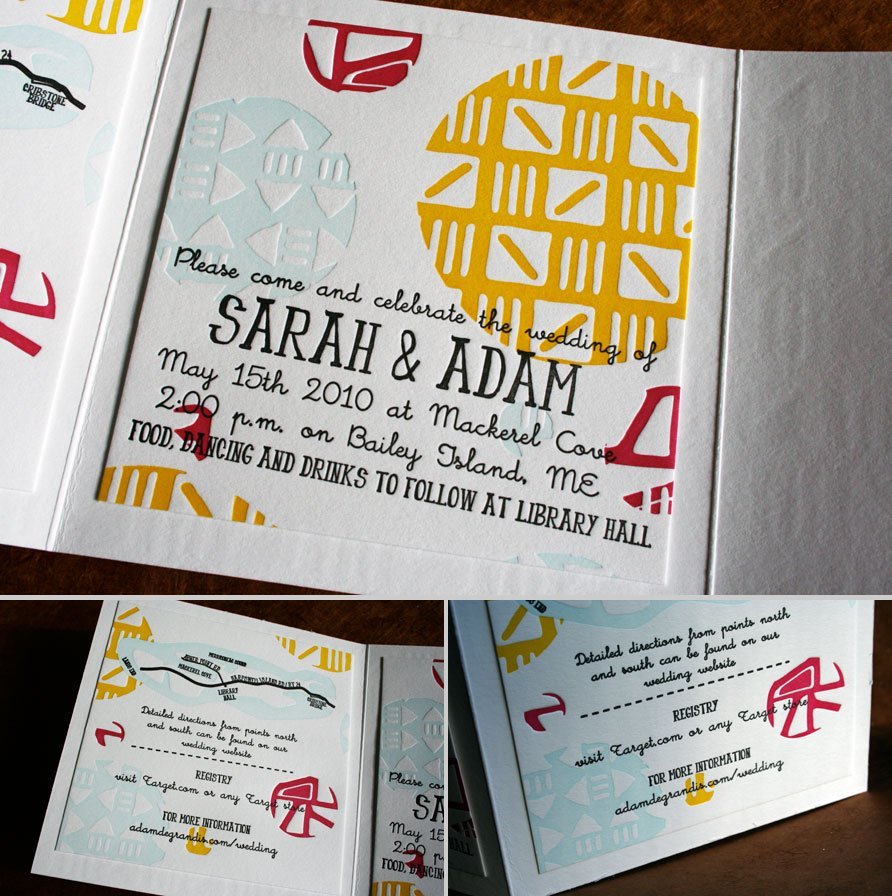 Isn't the texture of these just amazing?!?
Sarah and Adam's RSVP postcard was designed to match and was printed in two ink colors: yellow and black.  It was printed single-sided with instructions to have guests draw a picture on the reverse side.  At the wedding, Sarah & Adam had a photo album filled with all of their reply cards to show all of the different pictures everyone drew.  It was pretty cool!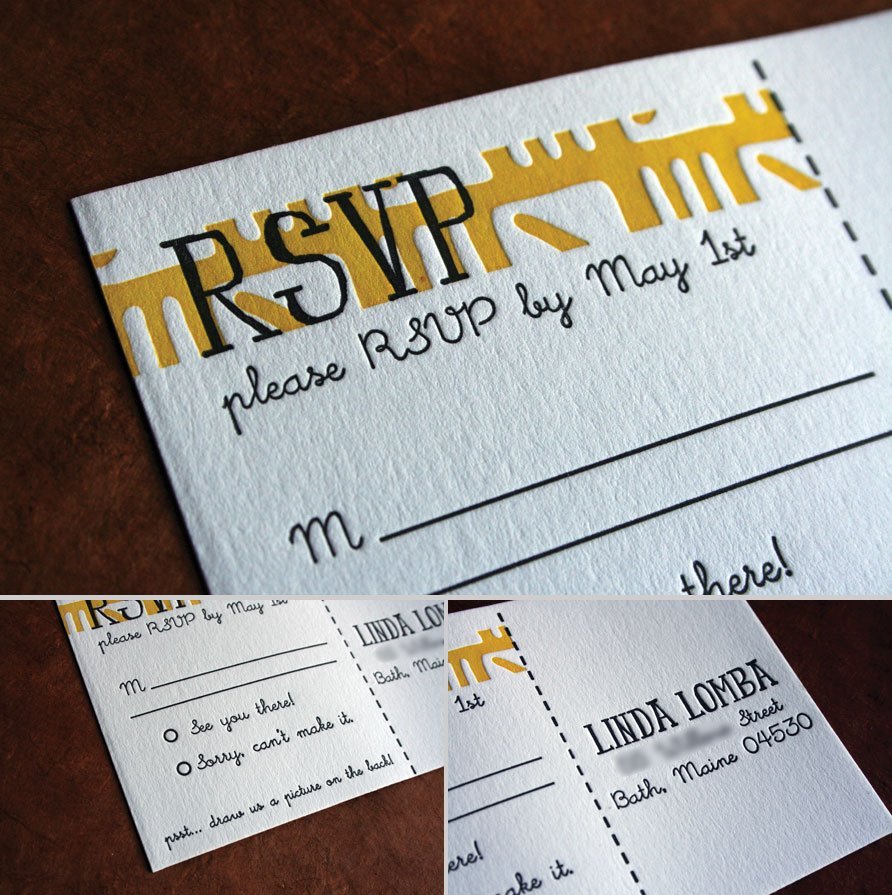 Aren't they so cool?!?  I absolutely love Sarah's unique design sense, and her color palette was super-fun!
Prior to their wedding I had never been to New England, let alone Maine.  It was an awesome trip and a wonderful celebration of two very special people!  Wanna see some photos from their wedding?!?  I know you do…  All photos below were taken either by me, or by Sarah & Adam's wedding photographer, Erin, of A Love Supreme Photography.
I love this photo of the happy couple…
Maine (above)!!
Sarah created most of the decor herself using many of the same patterns she had created for the invitations.  See the cute little bird in the wine glass?  Those were her place cards.  Everyone got to take one home!  (I have two of them on my desk right now).  She had all of the fabric for them custom printed by Spoonflower and then sewed them together herself.  She's one crafty gal!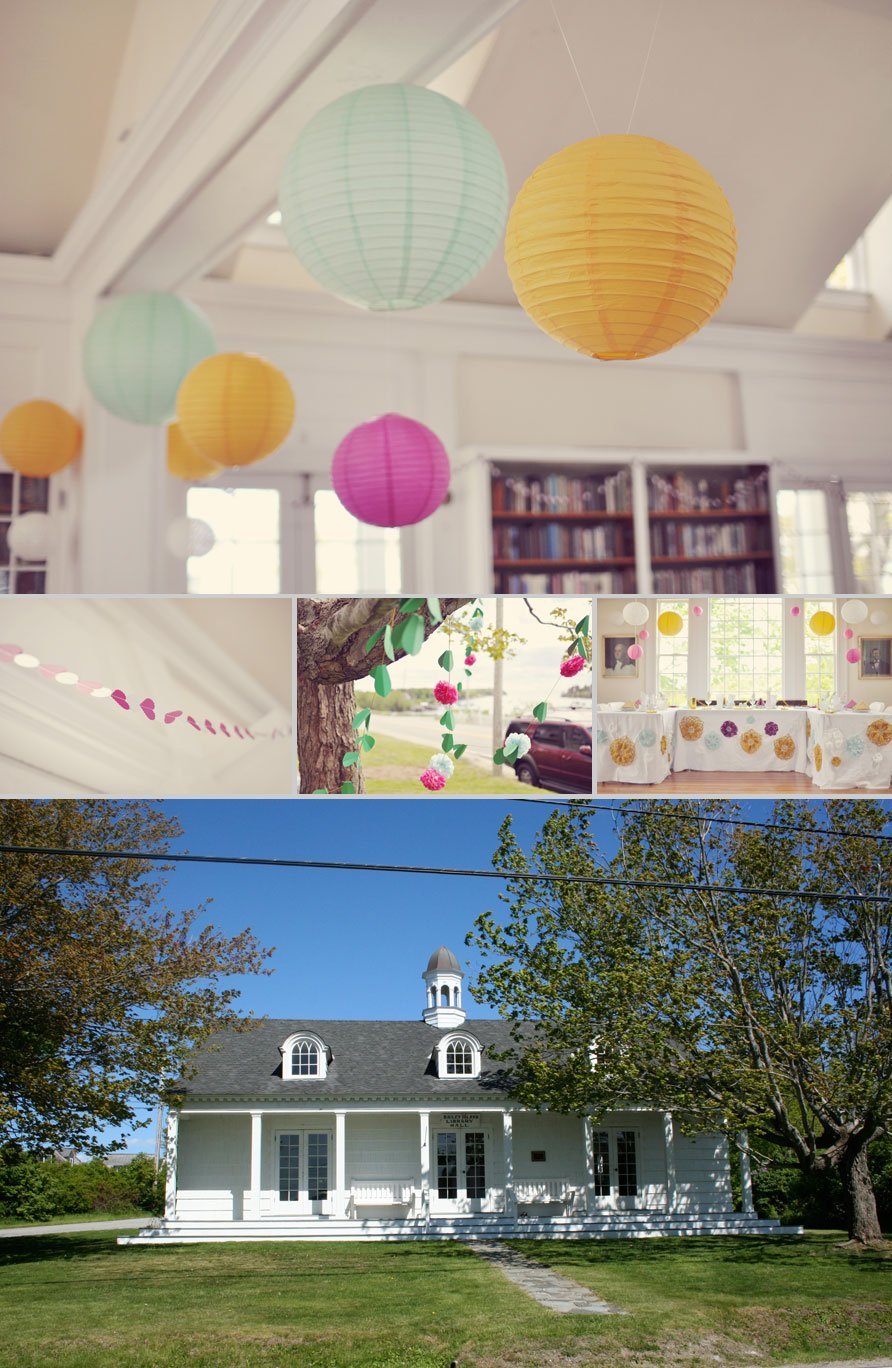 Above, Sarah & Adam's reception was held at Library Hall on Bailey Island, Maine.  I love all of the crochet pieces that Sarah made to adorn all of the tables and place settings at the reception.  She also made all of the garlands you see above.
The night before their wedding, we attended Adam & Sarah's rehearsal dinner which was at an awesome lobster restaurant on Bailey Island.  I had never eaten a whole lobster prior to this, and I have to tell you, it was maybe one of the awesomest culinary experiences of my life to date.
Below left, I just love this timeless photo of Adam & Sarah by Erin of A Love Supreme Photography.  Below, top right, Me and the beau, just in case you wanted to know what I look like.  Below, bottom right: They even had custom printed M&Ms made for the reception!  The two in my hand say "Sarah & Adam, for realsies".  I just love these two people so much!!
Adam and Sarah have actually moved back to Portland, Maine since I was in Maine for their wedding.  I miss them, but am excited about what they're up to out there.  Adam is teaching at the Maine College of Art and Sarah just recently started her own event planning business, Daycraft Events.  Check out her Pinterest and Facebook pages while you're at it!
Adam & Sarah: Thank you for awesome summer BBQ's, craft projects, DIY popsicles in Dixie Cups, a fabulous trip to Maine, Friday nights at Jameson's, your awesome sense of humor, style and design, and for teaching me that it is, in fact, possible to dance and drink beer at the same time, so long as you use a straw.  You rock my socks, for realsies!  : )
https://twinravenspress.com/wp-content/uploads/2015/04/SarahAdam8.jpg
768
892
Kristin
https://twinravenspress.com/wp-content/uploads/2015/05/NewRavensLogoForMatt.png
Kristin
2012-03-26 00:05:30
2015-04-03 21:26:15
Buddy Monday: Weddings | Sarah & Adam